Londonderry to get brain mapping facility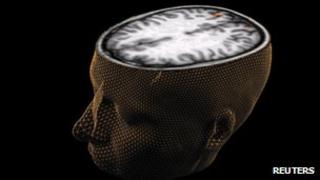 Ireland's first functional brain mapping facility is to be established in Londonderry.
Enterprise Minister Arlene Foster announced a £5.3m investment for the project on Wednesday.
The facility will be only one of a few in the UK to use the magneto encephalography technology to measure brain activity.
It will be based at the University of Ulster's Intelligent Systems Research Centre (ISRC) at Magee.
Brain mapping is the ongoing project to identify brain structures with specific brain functions.
The ISRC will carry out the research in conjunction with the Biomedical Sciences Research Institute and Institute of Nursing and Health Research at the University of Ulster.
ISRC Director Professor Martin McGinnity said the functional brain mapping facility would be a "major boost for" the ISRC and its research into neurological disorders, including depression and Alzheimer's disease.
"If we can understand better how the brain works, the impact on society will be enormous, both in terms of our health and employment in health-related industries," he said.
"Today, we are closer than ever to understanding the operation and complexities of the human brain, in health and illness."
An international effort is currently getting under way to map, understand and exploit the human brain. The EU is putting 1bn euros into the Human Brain Project, which will use supercomputers to reconstruct a virtual human brain to develop new treatments for neurological conditions.
In April, the US announced an initial $100m investment to develop new technologies to investigate how the billions of individual cells in the human brain interact.
Professor McGinnity said the new facility at Magee would enable researchers to make a greater contribution to the great brain race.
"Our vision is to exploit the capabilities of functional brain mapping to perform excellent research in neurological research and commercialisation," he said.