Return of Colmcille: traffic and travel news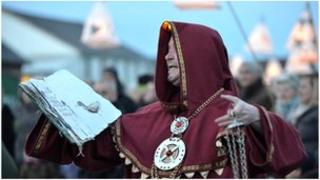 In Londonderry, final preparations are under way for the Return of Colmcille.
Involving more than 800 people, the show was written by the author of the London 2012 Olympic opening ceremony Frank Cottrell Boyce.
A giant vengeful Loch Ness monster, warrior monks and Amelia Earhart are among the characters who will appear for one of the highlight events in the UK City of Culture year.
The event takes place on and around the River Foyle on Friday and Saturday.
There will be a number of traffic and travel restrictions over the weekend.
Friday 7 June 2013
Temporary road closures will be in place on Queens Quay between Queens Quay Roundabout and Embankment Roundabout between approximately 19:30 - 20:15 BST and on Whittaker Street between 18:30 - 21:15 BST.
The Peace Bridge will be closed between 21:30 BST - 22:30 BST.
Saturday 8 June 2013
Throughout the day on Saturday the city centre will be open for business as usual with the exception of Pump Street and London Road which will be closed to vehicles between 08.00 BST and 18.00 BST.
Queens Quay will be closed from 20:15 BST through until 23.30 BST.
Foyle Embankment and Strand Road will be closed between 20:15 BST and approximately 22:15 BST.
The Peace Bridge will be closed from 19:30 BST until the end of the Showdown on the Foyle at approximately 23:00 BST.
In the Waterside, St Columb's Road will be closed to vehicles between 16:00 BST and 23:45 BST with the exception of Browning Drive residents.
On the evening of Saturday 8 June, the People's Procession and the Showdown on the Foyle cannot be viewed from Ebrington Square or the eastern bank of the Foyle at St Columb's Park for the purposes of audience safety and good sightlines.
These areas will be closed. Viewing areas for members of the public are located along Queens Quay and also for the Procession at Foyle Street and Strand Road.
Access platform and drop-off locations:
A platform for wheelchair users is located in Queens Quay Car Park. Drop off is by the Strand Road Roundabout. To use this facility please contact 028 71360886 with your name and contact details.
Car Parking
Foyleside and Quayside Car Parks are open late but access is restricted between 20:15 BST and 23:30 BST on Saturday 8 June.
A park and stride facility is available at Fort George off Strand Road about 15 mins walk from the City Centre.
Taxis
The Taxi Association will run a temporary taxi stand from The Diamond.
Public Transport
To support audiences coming to The Return of Colmcille Translink are running additional services to Limavady, Strabane and Dungiven following the events on Friday 7 and Saturday 8 June. Tickets must be purchased in advance of travelling.
Translink are also running additional city services on both Friday and Saturday to get participants and attendees to and from the events.
•Friday 7 June 17:30 BST - 22:30 BST.
•Saturday 8 June 18:00 BST - midnight.