Mystery bang sparks police search in Londonderry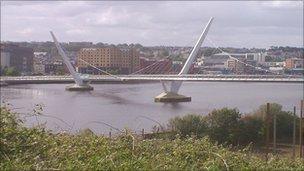 A mystery bang has left people scratching their heads in Londonderry.
For the third time in over a year, people have reported hearing a loud noise that, they said, sounded liked an explosion.
The Police Service of Northern Ireland (PSNI) said officers carried out searches in the early hours of Friday morning but nothing was found.
Dozens of people contacted the BBC to say they had heard the mystery noise.
The deputy first minister, Martin McGuinness, tweeted: "Loud explosion in Derry a few minutes ago, whatever caused it, hope there are no casualties".
A PSNI spokesman said: "Extensive police checks were carried out in the area by officers on the ground and the police helicopter was deployed but nothing was found.
"Police would ask members of the public to be vigilant. If they see any suspicious items do not touch or attempt to move them but call police immediately."
BBC Radio Foyle reporter, Sean O'Halloran, heard the noise.
"It was so loud that I was convinced it was an explosion," he said.
"Social media sites went into overdrive as people speculated about what it might have been.
"I came across a police checkpoint in the city centre. Officers told me they had received reports of a loud bang but hadn't found anything."
There have been two similar cases in Derry in the past.
In February, police investigated reports of a loud bang in the city centre but nothing was found.
In January 2012, homes and businesses were evacuated in the Spencer Road area. It was sealed off for a number of days but the police said there was no evidence of an explosion.