William McGreanery: MoD apology to family of man shot by soldier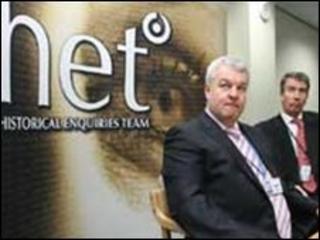 The government has apologised to the family of a 41-year-old man shot dead by a soldier in Londonderry.
William McGreanery was walking past an Army observation post near the Bogside when he was shot in 1971.
In 2011, the Historical Enquiries Team (HET) found Mr McGreanery "was not carrying a firearm and he posed no threat".
The Army's Chief of the General Staff sent an official apology to the family but that was done in private.
Mr McGreanery's relatives travelled to Westminster on Wednesday to seek a public apology from the government.
It was made by the armed forces minister, Andrew Robathan, in the House of Commons.
Mr McGreanery's nephew, Billy McGreanery, said he accepted the apology.
"We feel proud that we achieved what we set out for," he said.
"But we feel angry that it was necessary to pursue this parliamentary process.
"If you get an apology from the Ministry of Defence in private, it's only right and fitting that the government should make it a public apology."
Mr McGreanery said the soldier who killed his uncle still had questions to answer.
"We are seeking a prosecution. His act would be deemed a criminal act and I think that should at least be logged in his record."
The Pat Finucane Centre, a human rights group, and the Foyle MP Mark Durkan helped the family with their campaign.
Mr Durkan said: "An apology was given but then that apology was being refused or qualified by this strange attitude from government ministers who viewed it as a private communication.
"A family should not have to go through that after all they have suffered and endured."