Fr Francis Bradley is new leader of Derry Diocese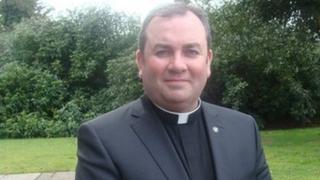 A 43-year-old priest has been appointed as the new temporary leader of the Catholic Church in Derry.
Fr Francis Bradley will run the Derry Diocese until a new bishop is appointed by Pope Francis.
The diocese has been without a bishop since Dr Séamus Hegarty retired in November 2011 due to ill health.
Fr Bradley takes over from Monsignor Eamon Martin who was ordained coadjutor Archbishop of Armagh on Sunday.
A canon lawyer, Fr Bradley was elected diocesan administrator by a group of senior priests on Monday.
He said it was an honour to be chosen.
"I'm struggling to get over the surprise of being chosen by my brother priests. I am daunted somewhat by the responsibility that the role brings," he said.
"I will take things step by step and see how it goes."
Fr Bradley is a native of Greencastle, County Tyrone. He has served in parishes in Tyrone and Derry.
He said he hoped his time in office would be short-lived.
"A few centuries ago, the church in Derry got along very well for over a hundred years without a bishop. But we are an episcopal church and we need a bishop," said Fr Bradley.
Hope
"I'm not the bishop of the diocese. I'm simply here to keep the wheels oiled and to be a source of encouragement to people. Our faith gives us hope and I think that's what we need in life today.
"There are challenges ahead which are of concern to me not only as a priest and a diocesan administrator, but simply as a believing Catholic.
"But I've got to be very humble in the fact that I'm not going to be able to change many of these things in what is expected to be a very short time in office."
Fr Bradley paid tribute to his predecessor, Archbishop Eamon Martin, who he said had "worked tirelessly" as diocesan administrator for 18 months.