Politicians visit Protestant Fountain estate in Londonderry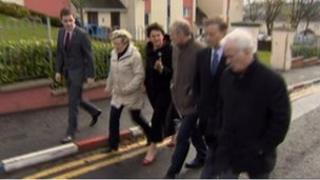 DUP politicians have visited the mainly Protestant Fountain estate in Londonderry following trouble in the area.
There have been sectarian attacks by nationalist youths on the estate every night since Margaret Thatcher died.
Police were attacked and 25 petrol bombs were thrown during trouble across the city over the weekend.
Extra police resources will be brought in to deal with any violence in the city on Wednesday, the day of Margaret Thatcher's funeral.
A protest event is also expected to take place at Free Derry Corner after her funeral.
'Deliberately provocative'
DUP representatives Arlene Foster MLA and Gregory Campbell MP visited the Fountain area with some local councillors.
In a joint statement the pair condemned attacks on the Fountain estate.
"There are some 60,000 people who live on the west bank of Londonderry and just about 400 of them unionists who live in the Fountain," they said.
"What type of warped mindset is at work trying to instil hatred in the minds of some children to target the residents of the Fountain?
"The parents, political and community representatives in the areas where these young people are from must act and they must do so immediately.
"A deliberately provocative series of events is being planned for Wednesday to coincide with Mrs Thatcher's funeral.
"Every effort must be made by the police as well as those in the community to ensure peace prevails both up to and beyond Wednesday."