A5: Millions already spent on halted road scheme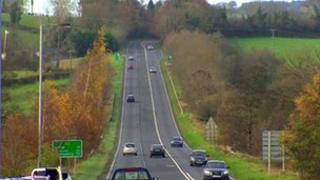 Almost £60m has already been spent on the A5 road project, which has now been halted.
Regional Development Minister Danny Kennedy has said he will not appeal a judge's quashing of the decision to go ahead with the dual carriageway project.
Mr Kennedy will now have to re-apply for planning permission.
Businesses that have already signed contracts to work on the project have reacted angrily.
Mr Kennedy said it was his intention to "accept the ruling".
He said he had considered the "complex legal and procedural matters".
"The judge took the view that a fuller assessment of the impact of the A5 proposals on the rivers Foyle and Finn Special Areas of Conservation should have been carried out," he added.
"I now intend to have a more comprehensive assessment conducted."
He said that the project was looking at a delay of a minimum of one year and added that he would be looking at other ways to spend the money.
"I need to look at how we can bring forward other schemes that can bring support to the road construction industry because of the pressure they are under at the moment.
"It is my intention to bring forward a paper to the executive as to how we can make sure that money is best deployed to support local jobs."
Design costs
Mr Kennedy confirmed that £47m had already been spent on design costs and an additional £10m on other costs.
Responding to claims on BBC Radio Foyle that some farmers had already received compensation for their land he said: "It may well be that some land owners are in receipt of compensation. I don't know the exact details of that".
£250m had been allocated to the A5 scheme. The money was due to be spent over the next two years with £118m spent during this financial year and a similar amount in the next financial year.
Finance Minister Sammy Wilson said: "I am unhappy about this decision. This is happening time and time again now. People are objecting and are taking issues to the courts. They are finding some minutiae in some European law that they know is simply going to delay a project.
"It is not going to stop it and yet for their own reasons use the court systems for that. The executive needs to ensure the system is not abused in this way."
Gordon Best from the Quarry Producers Association said a number of suppliers in the west had already signed contracts to supply materials to this job.
'Extremely disappointed'
"We are extremely disappointed with the decision. When we consider the construction industry has lost thousands of jobs over the last number of years and continues to lose jobs on a daily and weekly basis, I think this is a tragedy."
However, some local residents are happy with the decision including Eugene Gallen from Strabane. His house is 15 metres away from the proposed road.
"For us it it pleasing, we are able to stay in our home and we will not have the traffic and the building noises," he said.
"Our house was due to be vested and that would have meant a 50%-60% devaluation of our property.
"I can see how it would be positive for local business but on a personal level we are delighted to see the end of it."