Police to investigate Derry Easter commemoration rally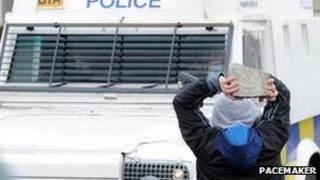 The police are to investigate events surrounding a dissident republican Easter commemoration in the city cemetery in Londonderry on Monday.
The police said the parade, which was organised by the 32 County Sovereignty Movement, was illegal.
Police vehicles came under attack from youths throwing stones and other missiles.
The police have said they are concerned that some of those involved appeared to be less than 10 years old.
A petrol bomb was also thrown at another police vehicle and at a police photographer who was taking pictures from outside the cemetery walls.
The police said no-one was injured and there were no arrests.
The Commissioner for Children and Young People, Patricia Lewsley-Mooney, said it was "deeply worrying to see children exposed to weapons and to civil disorder".
She called on parents and adults that are responsible for children and young people to protect them.
"Irresponsible adults are putting children and young people at risk. I urge all in our community to prevent this and if a criminal offence has been committed this must be referred to the PSNI and all relevant authorities," she said.
Around 200 people attended the event.
It was addressed by Dermot Ryan, the brother of the murdered Dublin Real IRA leader, Alan Ryan.