One of two Derry shooting victims crawled to seek help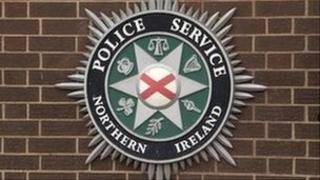 A woman who helped two brothers shot in Londonderry has said one of them crawled to her door to ask for help.
The woman, who asked for her name not to be released, bandaged their wounds and kept them warm until help arrived.
The two men, aged 25 and 26, were shot in the legs in the Ballymagroarty area of the city shortly after 20:00 GMT on Thursday.
Sinn Fein MLA Raymond McCartney said he believes elements close to the INLA were involved in the shooting.
"I thought it was children with bangers," the woman said. "I heard what sounded like four gunshots.
"Then I heard feet running through the alley. A couple of minutes later one of the boys that was shot knocked my door crying for help and then the second one came along.
"They must have dragged themselves through the fields. Me and a neighbour helped them until the police came up.
"They were very distraught, crying, and screaming. Plus it was a very cold night so you can imagine the shock they were in with the cold. It was horrific to see. I've never seen anyone shot before."
"I have a seven-year-old - I'm glad he wasn't here. I would never want him to see that."
The men have been taken to hospital for treatment.