Cold threat to butterflies at Letterkenny attraction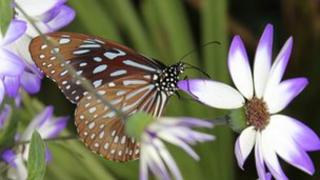 Hundreds of butterflies at a tourist attraction in County Donegal are under threat because of the chilly Irish weather.
Clive Alcorn set up Tropical World in Letterkenny in 2011, after importing pupae from across the world.
But he said he has been forced to burn up to six litres of oil an hour to prevent the butterflies from freezing to death.
The insects need a temperature of about 25 Celsius to survive.
"We're actually going to build a glasshouse inside the glasshouse to help them survive," he said.
"The butterflies need warm daytime temperatures to fly, and they need to fly to be able to feed."
"We've probably lost 20-30 butterflies. We've got 200.
"We're trying to save what's there."
Mr Alcorn said setting up a butterfly farm had been a dream of his for years.
"I've always been into animals from a child," he said.
"This was a chance of making a tourist attraction for Donegal."
It was a difficult time, he said, but he was confident the business would survive.
"The good weather will come. It comes every year. We just have to be patient, and it'll all come out in the waves."