New prison to be built at Magilligan, County Londonderry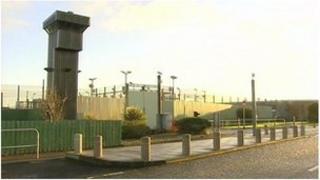 A new jail is to be built on the current site of Magilligan prison near Limavady.
The project is part of a new £200m strategy for prisons announced by Justice Minister David Ford.
Last year, a prison review team appointed by Mr Ford said Magilligan Prison should be closed, and a new one built in a more central location.
But the justice minister has confirmed that he has rejected that advice and opted for a new prison on the old site.
The prison will remain open while the building work takes place, with the project expected to take seven years to complete.
"From the outset I have been consistently clear that my decision regarding its future needs to be based on what is best for the people of Northern Ireland in terms of enhancing public safety through reducing offending," Mr Ford said.
"In November I indicated that I was inclined towards retaining a prison on the Magilligan site, subject to evidence being provided that issues concerning rehabilitation and family links could be adequately addressed.
"I am now convinced that there is a case for the retention of Magilligan."
Mr Ford also confirmed that Northern Ireland's high security prison at Maghaberry, near Lisburn, will be reconfigured to become three separate facilities dealing with different categories of offenders.
Hydebank Wood young offenders centre in south Belfast will also be refurbished, and there are plans for a separate facility for women prisoners to be built on the site.
'Massive boost'
East Londonderry MP Gregory Campbell said the employment of more than 400 prison staff - as well as jobs in the construction industry - were big factors in wanting to keep a jail at Magilligan.
"It is the Northern Ireland Prison Service. It's not the greater Belfast prison service," he said.
"There are a number of facilities in the greater Belfast area and it is important that prisoners and families and others have employment and visiting opportunities outside the greater Belfast area," he said.
William McKee, a former senior governor in the prison service, said it was a "massive boost" for the north west.
"I've been hearing rumours over this past number of months that Magilligan might get a reprieve," he said.
"I'm delighted for the people in Magilligan, but more broadly for the local economy.
"You have the suppliers that supply the prison, you have the wages of the prison officers that are spent in the local economy and, if they go ahead and build this new prison, it'll create jobs."