Higgs boson expert to visit Altnagelvin cancer unit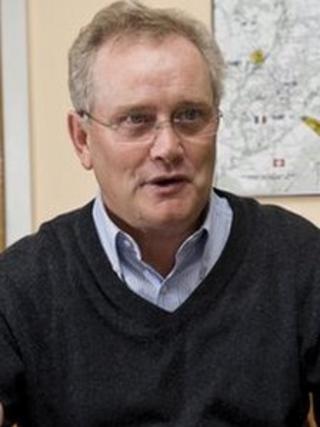 A leading cancer expert who worked on the search for the Higgs boson particle is to meet officials involved in a new radiotherapy centre in Londonderry.
Professor Steve Myers, originally from Belfast, is one of the team at the CERN laboratory in Switzerland where a particle consistent with the Higgs boson was identified.
He is also researching how to make radiotherapy treatments more effective.
SDLP MLA Pat Ramsey said the visit could have "huge benefits".
Mr Ramsey met with Mr Myers at CERN in Geneva and said the expert agreed to visit the radiotherapy centre at Altnagelvin hospital to assist the Western Health Trust in research around radiotherapy.
"I am delighted that I have secured this meeting, and what could be the start of a hugely beneficial and exciting partnership," he said.
Mr Myers is involved in research to make radiotherapy treatment more precise and effective.
He told BBC Radio Foyle that his team is trying to develop a more cost effective and compact machine after the success of a larger machine that is being used in five European hospitals but costs 200million euros.
The Higgs boson - nicknamed the God particle - has been the subject of a 45-year hunt to explain how matter attains its mass.