Attwood grants planning for Altnagelvin radiotherapy unit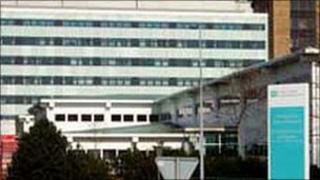 The environment minister, Alex Attwood, has given his approval for plans for a new radiotherapy unit at Altnagelvin hospital.
Health Minister Edwin Poots has welcomed the decision for the £70m project.
The new facility will provide a radiotherapy service to the people of the north west including from County Donegal.
The planning application has been turned around in just 11 weeks.
The Department of the Environment is currently consulting Derry City Council on its decision.
Health Minister Edwin Poots said: "This is great news for the local community and means we are one step closer to opening this important facility. It means more patients can be treated closer to home, rather than have a long journey at a stressful time.
"The new facility is expected to cost in the region of £70m including enabling works and is planned for completion in late 2015/early 2016 with the facility becoming operational in mid 2016 following a period of commissioning," he said.
"It will complement the service provided at the Belfast Cancer Centre and will receive financial support from Ireland's government."
Jobs boost
Environment Minister Alex Attwood said: "This is a development that will provide vital services for people in the local area. This is why I made sure that we were in a position to turn it around very quickly.
"Economically this will also provide a boost for Derry securing real jobs in the long term and construction jobs in the short term," he said.
The centre was put on hold in March 2011 after the previous health minister, Michael McGimpsey, said there was not enough money in his budget to run it.
Current health minister Edwin Poots reversed the decision when he took up the post.
People in Derry have to make a 200-mile round trip to the cancer centre in Belfast for treatment.