Derry Bloody Sunday families offered £50,000 compensation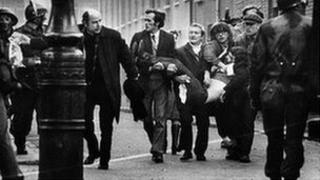 The BBC has learnt that the families of those killed on Bloody Sunday have been offered £50,000 each in compensation.
Those seriously injured on the day have also been offered the same amount.
The offer was made following months of discussion between lawyers for the Ministry of Defence and the families' legal teams.
The figure has been circulated in an email, but it is not clear yet if a formal letter has been sent to the families.
Under the terms disclosed to the BBC each of the 13 families whose relatives were killed would receive a payment of £50,000.
The 13 people who were seriously injured would receive the same sum.
The total compensation package would be about £1.3m. A solicitor for one of the families has described the offer as derisory and said his client felt it was an insult to those who were killed.
The legal firm Madden and Finucane, which represents some of the families, said talks about compensation were ongoing.
"Negotiations in respect of compensation are continuing with the Ministry of Defence and their legal representatives," they said.
"The contents of those negotiations shall remain confidential between the families of those murdered and the wounded whom we represent, and the MoD."
In a statement on Thursday, the Ministry of Defence said the Prime Minister had already "apologised for the Bloody Sunday events" and that discussions with the families' solicitors about compensation were ongoing.
It said any "speculation" about payments was "unhelpful and premature".
Thirteen people died when British soldiers opened fire during a civil rights march in Londonderry in 1972. A fourteenth person died later.
The Saville Report into Bloody Sunday was published in June 2010.
Prime Minister David Cameron apologised to the families and said the killings were "unjustified and unjustifiable".