Three company vans set on fire after Derry graffiti 'threat'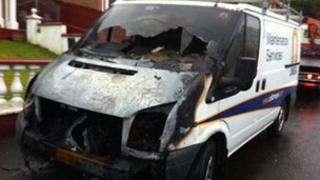 Three vans belonging to employees of a Londonderry property company have been set on fire over the weekend.
Two vehicles - parked in the Bogside and in Ballymagroarty - were set alight on Saturday evening.
A third was attacked in Foyle Springs on Sunday, and a car parked nearby was also damaged in the fire.
Sinn Fein said some Omega workers were threatened after they attempted to remove graffiti from the city's walls.
"It's very apparent dissident republicans were responsible," said Sinn Fein MLA Maeve McLaughlin.
Derry City Centre Manager, Jim Roddy, said he understood the vehicles were burnt outside workers' homes.
"On Friday night there was quite a lot of graffiti put back up on the walls.
"There were two workers there from Omega on Saturday, and I stayed there while they did the work.
"A number of people arrived on the scene and they were very angry at the workers and at myself.
"These workers were there as local people doing a local job, that's all they were, and I'm feeling morally very upset around this," he said.
'Terrifying'
Creggan community worker Seamus Heaney said the owner of Omega was now fearful for his workers' safety.
"These men and women have to go back on the streets today, they drive in clearly marked vehicles, and they feel under threat currently because of what has happened over the weekend.
"It's a very terrifying experience for any family to have to go through that.
"It's simply wrong, it shouldn't have happened, and the organisations behind it need to tell the people of this city why those vans were attacked."
Sinn Fein MLA Maeve McLaughlin said those responsible should explain themselves.
"They need to try and explain to the people of this city the rationale for such actions.
"These are local people, these are local workers, and what aim or cause is advanced by targeting local people?"
The attacks have also been condemned by the Londonderry Chamber of Commerce.
"This is a highly respected business, which is engaged in activities that have helped to improve conditions in this city and is committed to ensuring peace, stability and wealth for our people.
"It is outrageous that threats and attacks have been made against this business and its workers."