About 1,000 people take part in Derry Bloody Sunday march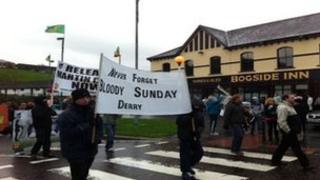 About 1,000 people have taken part in a march organised by some of the families who lost loved ones on Bloody Sunday.
Thirteen people died when British soldiers opened fire during a civil right march in Londonderry in 1972.
Sunday's march began at Creggan shops, and followed the route of the original march to a rally in the Bogside.
Members of dissident republican groups also took part, as did relatives of other victims of the Troubles.
In December it emerged that soldiers involved in Bloody Sunday are to be questioned by police as part of a murder investigation.
The Saville Report into Bloody Sunday was published in June 2010.
Prime Minister David Cameron apologised to the families and said the killings were "unjustified and unjustifiable".
In 2011, the majority of the families agreed that year's Bloody Sunday commemoration march would be the last.
They felt it was no longer necessary as the Saville Report had exonerated the dead and wounded.
But some family members still continue the tradition of a march on the Sunday nearest to the anniversary.
Clarification 9 April 2019: This article was amended to remove a reference to the death of John Johnston. This reflects the Bloody Sunday Inquiry's finding about Mr Johnston's death several months after he was wounded in Derry on 30 January 1972. The inquiry report states that his death was "not the result of any of the wounds he sustained on Bloody Sunday".