Londonderry loyalist flag protest passes peacefully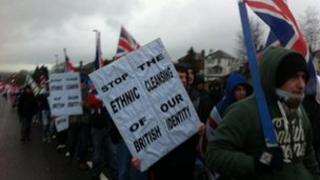 A loyalist demonstration in the Waterside area of Londonderry has passed off without incident.
Several hundred loyalists gathered in Bonds Street before a parade along the main Derry to Belfast Road.
After going through the loyalist Irish Street estate they returned to the starting point for a rally.
There were claims that loyalist culture and heritage was being eroded and anger at the restricted flying of the union flag at Belfast City Hall.
The PSNI were visible along the route and officers in riot gear maintained a presence at Ebrington Square near the peace bridge.
The crowd were addressed by loyalist activist Willie Frazer and Henry Reilly of UKIP amongst others.
Loyalist street demonstrations have been taking place since Belfast City Council voted to limit the number of days the union flag is flown at Belfast City Hall.
The majority of the street demonstrations have passed without incident, but some have resulted in serious rioting.
Since the vote was passed on 3 December, 127 police officers have been injured and at least 174 people have been arrested.