Campsie fire: Fire service still tackling Londonderry plant blaze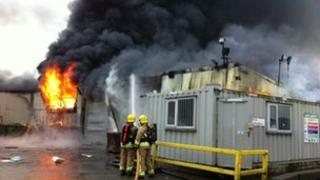 A 200m exclusion zone remains in place around a fire at a scrapyard and recycling plant near Londonderry.
Fire fighters remained at the scene in Campsie overnight.
Sixty firefighters and at least 6 fire appliances spent much of Tuesday tackling the blaze which sent smoke billowing over a large part of the city.
All customers who were without electricity because of the fire are now back on supply.
A number of explosions were heard coming from the site throughout the afternoon.
Station Commander Jonathan Tate spent the day at the scene.
"There were a range of different cylinders, propane, oxygen, present on site and there is a possible that is what was causing those blasts.
"The incident was contained to the site and wasn't going to spread beyond the perimeter."
Station Commander Tate said one of the problems his officers faced was an environmental impact from water dousing the flames becoming contaminated.
"The water run-off would be assessed as we are fire fighting.
"We would be consulting with the Northern Ireland Environment Agency to make sure they are happy with our fire fighting operations.
"That will dictate out tactics, because any time we are going to cause damage to the environment our tactics would have to change to take that into account.
Station Commander Tate added they will re-assess the situation at daybreak on Wednesday.
"There will be an assessment made and if the incident has to be scaled up again during daylight hours it will be to bring it to a close at some stage today.
"The structure has now collapsed so whatever was in the property is still burning.
"There are no lives at risk so we will be taking things nice and slow, and not putting our fire fighters at risk.
"We still don't know how the fire started but when we have the blaze extinguished we will start an investigation."