Fire at yard in Campsie, near Derry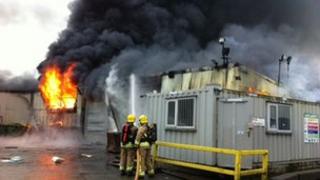 A 200m exclusion zone has been set up around a major fire at a scrapyard and recycling plant at Campsie outside Londonderry.
Sixty firefighters have been battling the fire at Peak Environmental on Clooney Road.
The fire service has said large amounts of diesel, plastic and cardboard are in the buildings which are on fire.
Residents in the area have been advised to keep their windows closed until the morning because of smoke and fumes.
It is not yet known what caused the fire.
A total of nine fire appliances have been battling the blaze.
Fire Service Group Commander Paddy Gallagher said: "We've been able to monitor the smoke plume for direction and speed and advice has been given out through the PSNI for local residents - keep windows and doors closed.
"We've been able to get more water on the water and become more offensive."
NIE has said all customers who were without power because of the fire are now back on supply.