Magilligan house fire victim's name released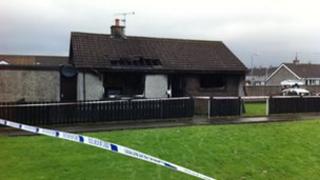 The man who died in a house fire in Magilligan, County Londonderry, on Monday night was 57-year-old Willie Fleming.
Mr Fleming died in the blaze in the Drumavally estate at about 22:00 GMT.
Limavady Mayor Cathal McLaughlin, who lives nearby, knows the family well and spent time with them on Monday night.
He said the tragedy "has deeply shocked family and friends to the core". Priest Fr Frank O'Hagan said Mr Fleming was "just a gentle soul".
"I feel very sorry for the family, for his two sisters and brother and for the rest of the family," he said.
"He was a very quiet man, but still very well known and very well loved by everybody."
Fr O'Hagan said Mr Fleming always visited the local newsagents every morning and many people knew him from there.
"He would be there most mornings with the two men who run the shop," he said.
"He would just be helping them out with the vast amount of newspapers that they do each day, so he would have been seen there most of the time.
"He was very humorous as well, he will be sadly missed throughout the parish."