Strabane bomb intended for police inspector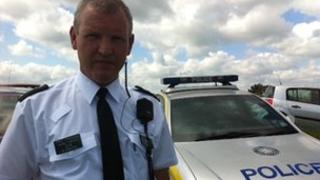 A suspicious package sent to a police inspector in Strabane in County Tyrone was a small bomb, the Police Service of Northern Ireland (PSNI) has said.
It was found in an envelope addressed to Chief Inspector Andy Lemon.
The device was discovered by postal workers at the town's sorting office shortly before 09:00 GMT on Friday.
Army bomb disposal officers were called to the scene to examine the device. They confirmed it was viable and have taken it away for further examination.
'Worrying development'
The security alert has now ended and all roads have re-opened.
CI Lemon said it was a "worrying development" for both himself and his officers in the area.
"As police officers, we are targets and I would be quite high profile within Strabane. It is worrying when you get any threat," he said.
The chief inspector added that he was keeping an open mind about where the threat came from.
"At this stage we have to keep open all lines of enquiry, but certainly it would appear to be coming from the direction of dissident republicans."
In a joint statement, Northern Ireland's first and deputy first ministers condemned the attempted bombing and said: "There can be no justification for this calculated and callous behaviour."
Vigilance
Peter Robinson and Martin McGuinness appealed for anyone with information about the attack to contact the PSNI.
"This was not just a planned attacked on a police officer but also on the postal workers involved and society as a whole," the ministers said.
The chair of the Northern Ireland Policing Board, Brian Rea, said the device had the potential to cause injury.
"Whoever sent this package really didn't care about the harm it could have caused and I praise the vigilance of the postal workers in spotting it," he said.