Community service for father who repeatedly punched son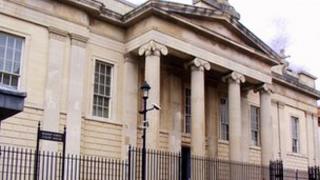 A Londonderry man who repeatedly punched his 12-year-old son on the head has been sentenced to 50 hours community service.
The defendant, who cannot be named to protect his son's identity, was arrested after his son reported the assault to his teacher.
The court heard that the attack happened in the boy's bedroom last February.
Deputy District Judge Dunlop said the behaviour was totally inappropriate.
The assault started when the defendant shouted at his son for playing on an Xbox instead of doing his homework.
A prosecution solicitor at Londonderry Magistrates Court told the judge that the boy's mother tried unsuccessfully to pull her husband off her son.
A defence barrister said the defendant no longer lived in the family home and he accepted that his relationship with his son could be permanently damaged by what his barrister described as this "outrageous behaviour".
He said the defendant had written a letter of apology to his son but no reply had been received.
He said the assault caused a devastating family fall-out.
Imposing the sentence, the judge said the defendant had admitted to raining down punches on his son's head and body with a closed fist. The judge said such behaviour against a child was totally inappropriate.