Master charged with breaching maritime regulations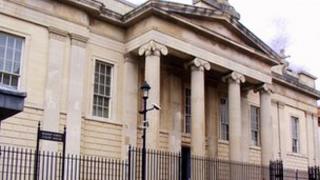 The master of a vessel has appeared in court in Londonderry charged with breaching maritime safety regulations.
64-year-old James Graham Paul Stronge, of Clea Lough Road in Downpatrick is alleged to have committed the offences in August 2011 and January last year.
The defendant is charged with sailing the motor cruiser with 22 passengers and two crew in breach of regulations.
He is also charged with sailing with insufficient and deficient safety appliances.
These include life jackets, a life raft and life raft safety units.
A barrister for the prosecuting body the Maritime and Coastguard Agency told District Judge Barney McElholm that the defendant was convicted of similar offences at the Downpatrick Magistrates Court in September 2011..
He is further charged with sailing the boat, the Sarah May 111, while it had been detained under the Merchant Shipping Act and with making false declarations about 17 life jackets, two safety release units and two eight man life rafts.
He was released on his own bail of £500 and was ordered by District Judge Barney McElholm to continue to reside at this home address until he is arraigned on the charges at the Crown Court on 7 February.