Academic selection dominates Londonderry post-primary debate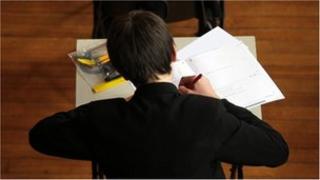 The leader of the Catholic Church in Londonderry, Monsignor Eamon Martin is to meet school governors to discuss the "next step" in his proposals to reform post-primary education in the city.
The paper, called Together Towards Tomorrow puts forward a number of proposals.
They include the abolition of academic selection and co-education instead of single sex schools.
There have been over 300 individual responses to the paper.
Monsignor Martin's proposals for finding an alternative to academic selection were rejected by Lumen Christi College in Derry, one of Northern Ireland's leading grammar schools, when they were put forward last year.
He said that of the four main proposals in his paper, academic selection dominated the debate.
"There was a strong group of parents who were opposed to moving away from academic selection at all," he said.
"The discussion paper proposed a phased transition away from academic selection over a period of quite a number of years.
"Some parents said to me that was no good and that we needed to move away from it completely, immediately.
"Other parents were saying that he shouldn't move away from it at all.
"It is fair to say that grammar schools in the city are not happy with the church asking them to move away from academic selection immediately.
"As I say in the paper, responsibility for admissions arrangements rests with the board of governors.
"As a senior trustee all I can do is say that this is my view, and not just my personal view, all of the senior Catholic trustees in the north are convinced of a need to move away from academic selection."
Monsignor Martin said proposals for co-education Catholic schools also received a huge response.
"It was interesting to note that even though most of our post-primary schools are single sex schools, there seemed a genuine openness to moving towards co-education in the city for everyone, but recognising again that this can only be done carefully, with a lot of planning and organisation," he said.
"So what I am trying to do now is to go to the next step, to meet with the education professionals to ask if we were to move this forward how we would do it in a way that would maximise opportunity and minimise risk."