Loyalist flag protesters at new Sinn Fein office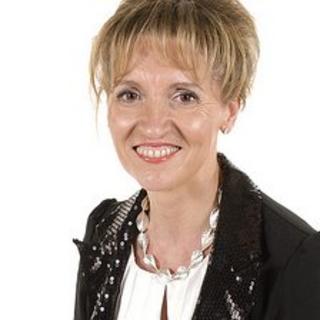 Sinn Fein MEP Martina Anderson has said she is "unperturbed" by a loyalist protest outside her newly opened offices in Londonderry on Wednesday.
Up to 50 protestors blocked Spencer Road outside Ms Anderson's European constituency office, just hours after it was officially opened.
Some carried union flags and banners reading 'stop the ethnic cleansing of our British identity'.
Ms Anderson said she supported their right to be there.
"People are entitled to hold peaceful and lawful protests and I don't intend to inflame the situation.
"There was a small group of protestors who were there for less than an hour."
Culture
One protestor said the demonstration was held there because of what the office symbolised.
"It is a furtherance of Sinn Fein's foothold in the Waterside.
"There has been 40 plus years of ethnic cleansing in the Cityside and this is just a furtherance of that.
"Our protests are about more than the union flag.
"Our culture is being eroded away."
The protester said unionist political leaders who are calling for the protests to be taken off the street are not listening to the people they represent.
"The political forum has failed us and the political leaders have failed us.
"We have seen our identity and our culture ruthlessly stripped from us time and time again.
"We are not going to try and cause splits because we want unionist unity but we want the leaders who will lead us right and defend us in the political forum.
"We will protest until we get that."