Suspended sentence for woman who struck man with vodka bottle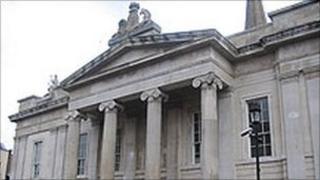 A 37-year-old woman who struck a man on the head with a vodka bottle has been given a suspended jail sentence at Londonderry Magistrates Court.
Shauna McCartney, of Benevenagh Gardens, admitted striking the man as they walked towards a bonfire in Creggan on 19 August.
He had verbally abused her about her looks, weight and height.
Deputy District Judge Terence Dunlop imposed a two month jail sentence suspended for two years.
A defence solicitor told the court that both McCartney and the injured party, who required three staples for his head injury, had been drinking heavily at the time.
He said McCartney, who had no previous convictions, was afraid of the man because of his verbal abuse towards her and because of what she believed to be his threatening manner.