Drunken Londonderry thief petted CCTV camera he stole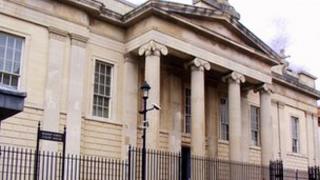 A police officer has told Londonderry Magistrates Court that a man who stole a CCTV camera from a house was so drunk he was later spotted petting it on the ground.
24-year-old Peter Morrison from Heron Way in the city, was found guilty of ripping the camera off a wall at Adelaide Avenue.
The court was told the house owner saw the incident on his monitor.
He drove after Morrison and caught up with him outside a local supermarket.
It was there he saw him petting the CCTV camera on the ground.
The house owner detained Morrison and contacted the police.
After he was arrested Morrison told the police he was so drunk he could remember nothing about the incident.
Morrison, who admitted committing the theft and criminal damage offences in April 2011, was fined £180 and ordered to pay compensation of £120.