Attwood gives ASDA green light for new Londonderry store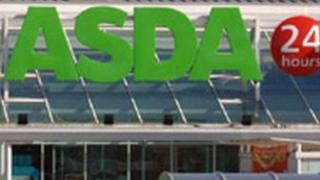 Environment Minister Alex Attwood has given the green light for a new ASDA store in Londonderry, creating 350 jobs.
The store will be built at the Crescent Link Retail Development park in the Waterside area of the city.
Mr Attwood was in Derry on Friday morning for the announcement.
Planning permission was refused for four other applications, at Drumahoe, Crescent Link and Tesco on Buncrana Road.
A further application for a smaller Tesco on the same site on Buncrana Road was also recommended for refusal by the minister.
Concerns had been expressed by city centre traders over the impact the out of town developments could have.
Four applications remain and the minister said he will have to consider those.
He would not, however, be drawn on a timeframe on when the final decision on the four will be made.
Alex Attwood said the decisions would define Derry's retail future for years to come.
"Trade that leaves Derry and goes to Strabane and even Coleraine to shop in ASDA will return in my view to Derry and therefore will create jobs and retail spend in Derry.
"In my judgement, I think this will not damage existing retail centres and city centre traders.
"Indeed in my view it will bring people not just from Derry, but from the north west, from Donegal, into the city in order to shop and to trade.
"I think this will be a win-win for Derry."
Other applications turned down by Mr Attwood included a mixed retail outlet at Drumahoe.
He said: "It was rejected because I did think that would have an impact on retail in Derry, and on the river and the natural heritage.
"A proposal for a Tesco superstore on Buncrana Road was turned down as was a proposal for a Sainsburys Superstore on Crescent Link.
"I also recommended to Derry City Council not to accept a smaller Tesco on Buncrana Road as well.
"I will wait and see what the council has to say to the Planning Service about that."
A spokeswoman for Tesco said they were "extremely disappointed" by the decision and would be considering their legal options.
"We have been working for a number of years to bring jobs and investment to the area," she said.
"Our plans are completely in line with planning policy in addition to being supported locally and we will now engage with the council as well as consider our legal options."
Mr Attwood's announcements have been welcomed by the chief executive of the Londonderry Chamber of Commerce, Sinead McLaughlin.
"It is a relief that we now have certainty regarding some of the out of town planning applications," she said.
"These have been subject to a long-running and highly-charged debate.
"The uncertainty has been damaging to investment in the city and region."