MP says Bloody Sunday murder inquiry is "misguided"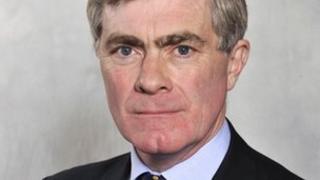 A Conservative MP who served as a soldier in Northern Ireland has questioned the need for prosecutions in the Bloody Sunday killings.
On Thursday it was revealed that a team of 15 detectives will head up a murder investigation into the 1972 shootings.
They will be led by a senior investigating officer who will be based in Londonderry.
Patrick Mercer said he is "confused" by this latest development and does not know what prosecutions will achieve.
"I see yet another inquiry. I see a huge amount of expense.
"I see police officers distracted from their job, particularly when things in Northern Ireland are becoming more difficult again.
"And I see a conclusion which frankly I feel has been already reached with the Prime Minister's heartfelt apology to the families."
Mr Mercer said when he arrived in Northern Ireland as a young officer he was left in no doubt as to what was expected of him and his regiment.
"I was told that on no account would my regiment ever behave the way the parachute regiment behaved in Londonderry a few years before.
"With that in mind, I would never support the wrongdoing of members of the security forces against civilians or against each other, it has got to be wrong.
"Yet again my argument takes a third twist.
"While I find these individuals who may or may not be accused are elderly men, some will have died, and should the inquiry find that guilt should be apportioned to individuals, how do we deal with them, especially when terrorists who have been found guilty of violent crimes, possibly murder, have been pardoned in the past?
"I don't think this is welcome on the back of so many other expensive inquiries."
Mr Mercer said he understands that families of those killed are entitled to justice.
"I absolutely accept that, but how do we deal with anyone who is found guilty?
"I really don't want to pre-judge this but I think those who are involved in what is a misguided inquiry will have a very difficult time ahead of them. And a very expensive time."