Flag protests in the North West pass off peacefully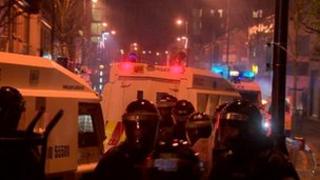 Loyalist flag protests in County Londonderry passed off peacefully on Monday night.
Protestors blocked the Glendermott Road in Derry and around 200 people blocked the road to Strabane at Newbuildings.
There were also protests at Nelson Drive and on the cityside of Craigavon Bridge.
In Coleraine, more than a hundred loyalists blocked traffic on the Old Bridge road for about ten minutes.
DUP Councillor George Duddy was among the protestors in Coleraine.
"At about ten to seven, just before they finished at seven o clock the protestors brought the traffic to a standstill.
"And then they went home after they sang the national anthem at seven o clock, it was all very peaceful.
"They were no problems or issues with the police or members of the public at large.
"This is the second protest I have been at in Coleraine and they have both passed off very peacefully."
One protester said he was on the streets because he feels he has been stripped of his identity.
"We feel that our traditions are being eroded.
"Everything that we are about is being taken away from us inch by inch and its about time everybody woke up and smelt the coffee."