Man jailed for having gun outside County Londonderry bar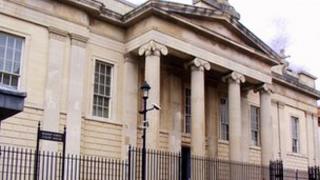 A man with 64 previous convictions has been jailed for five years for possessing a loaded gun outside a bar in Magherafelt, County Londonderry.
Dominic Leo McGrath, 35, from Altowen Park, Coalisland, County Tyrone, pleaded guilty to a number of offences committed on 8 September 2011.
The court was told that McGrath returned to the bar having earlier been ejected.
He then drove at speed back to the bar.
Another driver leaving the car park had to swerve to avoid him.
After McGrath braked hard, a police officer approached the car and took the keys out of the ignition.
McGrath was seen trying to hide something and then throwing an object into the back seat.
This was later seen to be a loaded revolver.
Ammunition
A quantity of ammunition was also found.
Forensics indicated the weapon had recently been fired and while in custody McGrath tried to urinate on his hands to remove any firearms residue.
A forensic scientist could only say the weapon had been fired but could not determine if it was McGrath who had done it.
He told police that he had come to the attention of some people because of his involvement with drugs and had bought the weapon so he could fire it in the air to frighten off these people.
Judge Piers Grant said it was a very serious offending and it is clear McGrath intended to use the weapon either to threaten or scare others.
Judge Grant said McGrath had 64 previous convictions many of them for violent offending.
He was assessed as posing a high risk of re-offending and was seen as a significance risk of causing serious harm to others.
Judge Grant said that in this case an extended sentence was merited.
He sentenced McGrath to five years in prison and extended his licence period for two years.
He was also disqualified from driving for two years.