Foyle MP Mark Durkan is Westminster 'Wit of the Year'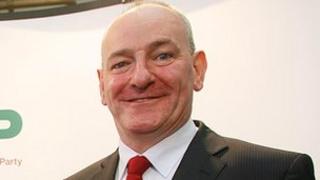 SDLP Foyle MP Mark Durkan has won the parliamentary Wit of the Year award at Westminster.
Now in its fifth year, this humorous event has become a fixture in the diaries of many of the 650 MPs and over 700 Lords at Westminster.
Mr Durkan was presented with a framed caricature on the night depicting him reading from a book of 'Durkanisms'.
Mr Durkan jokingly said: "Natural Irish sense is what passes for wit in a British Parliament."
The Annual Alternative Parliamentary Awards organised by GovNet Communications and held in the House of Lords.
The spirit behind the Wit of the Year award is as much about a parliamentarian's jocular nature and style in the tea-rooms and corridors of Westminster as much as in the House of Commons chamber itself.