Donegal town struggles to come to terms with second sister's death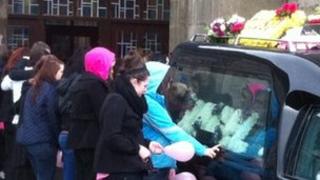 People in Ballybofey in County Donegal say they are struggling to come to terms with the death of 15-year-old Shannon Gallagher who was found dead on Wednesday night.
Her sister Erin, who was 13, took her own life amid claims of cyberbulling just six weeks ago.
Irish police have said they are treating Shannon's death as a personal tragedy.
The schoolgirl will be laid to rest on Saturday.
Terri Burton runs a tattoo shop in Ballybofey where teenagers congregate after school.
She is seeing first hand how they are coping with the latest tragedy to hit the Gallagher family.
"They are all kind of disconnected it from it at the moment.
"A couple of people came in with tears in their eyes but they are mainly sticking together.
"They are going to the youth club and we are keeping an eye on them.
"They are babies, they are 14, and it is very sad for them," Ms Burton said.
Celine McGlynn helps run the Finn Valley Voice newspaper which is based in Ballybofey.
She reflected that the front page story about Erin Gallagher will be repeated for her sister Shannon.
"Lovely young girls should not die like this, it is just not right.
"I don't think anybody even had got over Erin's death.
"And now, to be faced with this again, I think it is too much for people to take in."
The Health Service Executive in the Republic has said all supports are being made available to the Gallagher family.
A local helpline has been established for parents from Donegal who have concerns about their children.
The number, 1850 400 911, is available from 12:00 GMT until 22:00 GMT daily.