Rocket find: men are refused bail at Londonderry court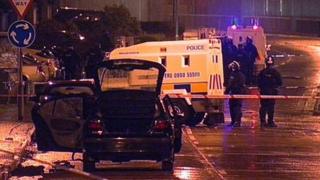 Three men arrested after the discovery of a rocket last week have been refused bail at Londonderry Magistrates Court.
District Judge Greg McCourt said he was remanding the three men in custody because of fears of them re-offending or absconding if released on bail.
The defendants are Jason Ceulmans, aged 42 from Lecky Road; Damien Harkin, aged 47 from Westland Avenue, and Neil Christopher Hegarty, also 47.
They appeared for the bail application via video-link from Maghaberry Prison.
They are jointly charged with possessing what a police officer described in court as "a viable explosive device", which police believe contained a mixture of Semtex and sugar.
They are further charged with conspiring with others to murder unknown persons, and with possessing a walkie-talkie for use in an act of terrorism.
All three deny the charges.
As part of her opposition to the defendants being released on bail, a detective constable handed into the court a photograph album showing photographs of the metal device, which she said police had recovered from the car.
She said the Mr Ceulmans was the driver of the car, Mr Harkin was a front seat passenger, and Mr Hegarty was the rear seat passenger.
She said the device was found in a hold-all on the floor behind the driver's seat.
The police also found between 20 and 30 metres of command wire, which the officer said was not attached to the device.
Latex gloves
The police witness said the defendants Harkin and Hegarty were both wearing latex gloves under black woollen gloves.
Also in the car was a bottle of inflammable spirits.
She said the device was a copper dome-shaped projectile capable of piercing an armoured vehicle.
The letters A and F were found on a starter unit and she believed they stood for "arm" and "fire".
She said, during their interviews, the defendants made no reply, however Harkin - in a prepared written statement - said he was in the car with the intention of using the spirits to burn the car and the device at Groarty Road.
Applying for bail for the defendants Ceulmans and Hegarty, solicitor Paddy MacDermott, said it would take at least six months before forensic tests had been completed.
He said both men and their families were deeply rooted in the local community and it would be in their interests to turn up for their trial.
Barrister Andrew Moriarty, applying for bail for the defendant Harkin, said the father-of-four was a member of the government-funded social justice committee and was currently working on a cross-community project with teenagers from east Belfast.
However, the district judge refused the applications and all three were remanded in custody until 10 January.