Free tickets for opening City of Culture concert available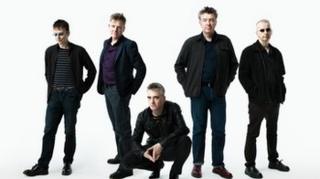 The opening concert for the UK City of Culture 2013 celebrations takes place on 20 January.
Applications are invited for free tickets for Sons and Daughters, featuring legendary local performers of stage and screen.
The concert will be recorded for BBC Northern Ireland television and broadcast live on BBC Radio Ulster.
You can apply for tickets online, by phone on 0370 9011 227 or text phone on 0370 9030 304.
The event will be staged in The Venue with tickets allocated in a random draw.
Applications open at 1000 GMT on 13 December until 1700 GMT on 4 January 2013.
Among those already lined up to appear include Phil Coulter, The Undertones, Damian McGinty, Paul Brady, Amanda Burton and Dana with more names due to be confirmed closer to the concert.
BBC Northern Ireland Peter Johnston Director said 2013 looked "set to be a memorable year".
"The BBC is planning a number of major events and programmes across the year and it is great to begin with such a prestigious occasion as we host a special evening of music and celebration."
The city's mayor, councillor Kevin Campbell, said the Sons and Daughters concert was a great opportunity to share the city's success and showcase local talent.
"Our city is renowned for its excellent musical and cultural talent and we are delighted to offer the public the chance to see the city's most loved musicians and performers come together in their home town for a free concert," he said.
"This gala event, which will reflect the city's cultural, historical and industrial achievements in music, word and song, promises to be a great night's entertainment and one of the highlights of our exciting year of events during 2013."
No applications will be accepted after the 4 January closing date. A maximum of two tickets will be allocated per household address. Duplicate applications will not be considered.
The organisers are unable to accept postal applications for tickets.