Londonderry City of Culture fireworks display for New Year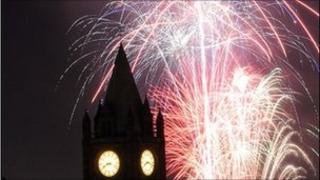 Derry City Council is asking people to come to Queen's Quay on New Year's Eve to welcome in 2013, the official start of the city's year as UK City of Culture.
To celebrate, the largest firework show the city has seen will happen at 20:13 GMT.
The event is specifically designed for families and will take place along the river front.
Derry City Council's Jacqueline Whoriskey, said it will be exciting.
"There is a pyrotechnics display against the backdrop of St Colum's Park and the Peace Bridge.
"I don't want to give too much away as to what it might look like, we just want people to come along and enjoy it.
"It is only over 40 minutes, it is not going to be that long in duration.
"We have to bear in mind that the weather might not be great, we are just getting people out to mark the occasion.
"There are other things happening too.
"At 18.30 GMT that evening we have got all the church bells ringing to make a call out to people to come along to the quay."
The Mayor, Kevin Campbell, encouraging the public to join in the celebrations said it was the perfect opportunity for families to celebrate the start of a new cultural chapter for the city and to look forward to 2013.
"This New Year's Eve event promises to be a great opportunity for families to come along to the riverfront and celebrate the start of 2013 and be part of the huge opportunities that it presents.
"It will mark the start of a fantastic year for our city as we tell our new story to the world and prepare to host an exciting range of cultural events throughout the year," he said.