Speaker Hay: I will take part in peaceful street protests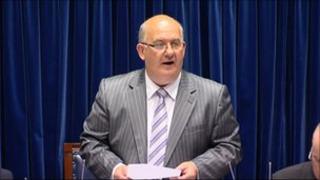 The speaker of the Assembly, William Hay, has said he will take part in the ongoing protests against the removal of the union flag from Belfast City Hall.
The DUP MLA condemned the violence but said he understood the anger within the unionist community.
There were more loyalist protests in the north west on Tuesday night, and police said there were two attempted hijackings in Londonderry.
Mr Hay said he had no problem taking part in street protests.
"I have done it in the past and I will do it in the future," he said.
"Let me be absolutely clear, I am standing with the unionist community in how they feel at this particular time.
"I will be standing with them, but I will be saying to them that it is vitally important that the law is not broken.
"It is vitally important they we have peaceful protests."
On Tuesday night protestors in the north West said they would be on the streets every night until the union flag is put back on Belfast City Hall.
In Limavady, Sinn Fein politicians were given a police escort from a council meeting after 100 loyalists gathered outside.
One man was arrested by police.
In Londonderry, the protestors were flanked by a heavy police presence at the junction of Dungiven Road and Rossdowney Road.
One women protestor, who did not want to be named, said she will not give up the protests.
"We will be here, or somewhere else every night until the union jack is back on the city hall where it belongs at the capital city of Northern Ireland," she said.
Culture
"We cannot tolerate an attack on our culture.
"We offend people by wearing a poppy, we haven't even got the right to parade.
"We have sat back long enough."
Another protestor felt they had been let down by their political representatives.
"A lot of our MLA's are to blame for this because they don't support the Protestant people," said the protestor.
"They allow Sinn Fein to walk all over the top of us.
"I am very proud of these young men protesting.
"They are our people coming up and we need to show them that this is our flag and this is something to be proud of."