Divers in Donegal told to stop searching for Tom Morris golf balls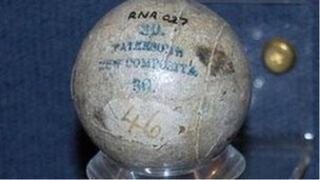 Donegal Council has told divers to stop looking for valuable golf balls in a public water supply.
Open Champion winner from the 1800s, Tom Morris, is believed to have struck 20 gutta percha golf balls into Lough Salt in the county.
They are now believed to be worth £20,000 each.
A council spokesperson said it is concerned the water supply could be threatened by the divers.
"Donegal County Council is extremely concerned about the recent reports on diving activity in the waters of Lough Salt County Donegal for recreational reasons and in particular the retrieval of artefacts from the lake bottom.
"Lough Salt is one of the main sources of drinking water for Letterkenny and its environs.
"The unique waters of Lough Salt are of a very high quality and are vital to the quality of this water is taken very seriously by the council."