Bishop challenges politicians on Derry university places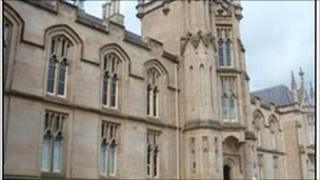 A senior churchman has entered the controversy over the expansion of the Magee Campus of the University of Ulster.
The retired Bishop of Derry and Raphoe, Dr James Mehaffey, is challenging political leaders to release the money needed to create thousands of extra student places.
Dr Mehaffey said he is deeply concerned about the lack of progress .
He said the Stormont Executive and the University itself needs to do more.
"This has been a growing feeling in my mind for some time, about the future prospects for Magee.
"The recent discussion has only proved that. 500 places were hoped for but in actual fact it's going to be half that number.
"But I think that misses the crucial point which is, that for this city and university to develop we need at least 10,000 students.
"I think that is skipping away and that gives me great concern.
"I really believe strongly that unless action is taken soon there is going to be a big drift and in a year's time, or five year's time, we will be talking about the same thing."
Dr Mehaffey said the relationship between the people of Londonderry and the University is closer than most places.
Link
"Take Queen's University, it doesn't have the same link with Belfast as Magee has with Derry.
"It is quite obvious that the people of this city look on Magee as their university and are very proud of it."
Bishop Mehaffey said if the political will was there, Magee would get the places it needs.
"If you look at politicians and governments, they can find money if they want to.
"That's true of the Stormont Executive. You'd be surprised sometimes how they get up and mention millions is going to be spent on this or that.
"And we are talking about something that will not only bring a good university to the city, but do a lot for the people of the city."