Droppin' Well bombing: Atrocity remembered 30 years on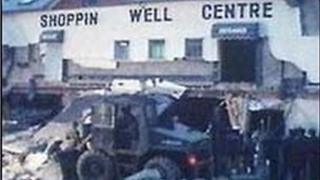 Relatives and friends of those killed in the Droppin' Well pub bombing in Ballykelly in County Londonderry are remembering the atrocity 30 years on.
Seventeen people were killed in the bombing on 6 December 1982.
The INLA later claimed responsibility for the attack that killed six civilians and 11 soldiers.
Martin McCann, who was a 17-year-old barman at the Droppin' Well at the time, said the pain stays with him.
"To me before everything happened it was just a normal day," he said.
"Going to work, serving people behind the bar, the craic was good, the music was good and there was plenty of noise and plenty of people.
"I was one of the lucky ones, I didn't get hurt.
"I remember I dropped the lid of a Pernod bottle at the time the blast went off.
"That saved me because I bent down to pick it up whenever the blast went off.
"I didn't see anything only the flash, that's all I can remember at the time, being put through to the kitchen and then the darkness and flickers of flame.
"The noise was deafening, my ears were ringing with the explosion."
Mr McCann said although he was not physically hurt in the explosion, he had suffered psychological damage in the years afterwards.
"Down through the years wee things bother you, but I never thought the Droppin' Well was the cause of it," he added.
"I am an outgoing person and I think I was using that to try and hide behind my pain.
"It's just a nightmare that never goes away.
"Everyone involved is going to be sore.
"They will remember exactly what they were doing 30 years ago.
"They are going to remember the last time they spoke to the person that didn't come home."