Pregnant County Londonderry woman escapes jail sentence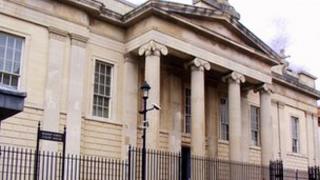 A 24-year-old woman from Claudy in County Londonderry has escaped a jail sentence at Londonderry Crown Court because she is pregnant.
Patricia Farren, from 4 Glen Road in Claudy, who is due to give birth next month, received a nine month sentence, suspended for two years.
Farren had pleaded guilty to perverting the course of justice by giving false alibis for two men.
The men had admitting assaulting a man in Dungiven on 13 June 2011.
Ms Farren's partner, 23-year-old Ciaran McFeeley, also from 4 Glen Road in Claudy, was jailed for 18 months for the assault.
His 22-year-old cousin Niall McFeeley, from Sheacan View in Claudy was also jailed for 18 months for assaulting the same man.
Two other defendants, 22-year-old Thomas McGuigan, from Irwin Avenue in Limavady, and 22-year-old Evin King, from Drumceatt Park in Limavady, who also admitted providing false alibis for the McFeeley cousins, were also jailed for nine months.