Armed robbers target elderly couple in County Londonderry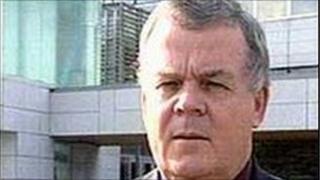 An elderly woman has been injured and she and her husband traumatised when robbers threatened them with a gun and a baseball bat in County Londonderry.
The three men burst into the couple's home in Kilrea after 22:30 on Tuesday just as the couple's daughter arrived.
They were told the man would be shot if money was not handed over.
John Dallat, the local assembly member who spoke to the family, says they are still in shock over their ordeal.
"It was a night of terror for a lovely couple.
"Very much highly respected in the community, they have lived here for over 20 years.
"The wider community here are absolutely appalled that such a lovely couple could be set upon in the mouth of Christmas in this violent way."
Mr Dallat said the robbers took advantage of the fact that the couple's daughter arrived unexpectedly on the scene.
"They had cable ties, they threatened violence, tied them up and threatened to shoot the father if the daughter didn't produce money which they claimed they knew was in the house.
"In fact the only money was money carried by the daughter, which of course they took.
"They also threatened to shoot them again if the informed the police."
Mr Dallat said the couple explained to him how they raised the alarm
"The man got a pair of scissors and managed to cut the cable ties from his wife's arms and then she cut his and then they released the daughter.
"The woman had very bad bruising on her arms. She was checked out at hospital and was discharged.
"No couple and no community deserves thugs like this running about lining their pockets in the run up to Christmas."
Police in Coleraine are asking anyone who noticed any unusual activity in the area at the time to contact them