Man pleads guilty to raping Londonderry schoolgirl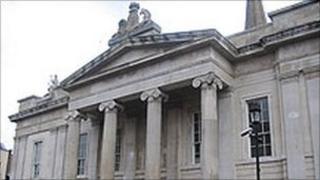 A 20-year-old man has pleaded guilty to raping and assaulting a 15-year-old schoolgirl in Londonderry.
The rape took place in the grounds of Foyle and Londonderry College's junior school in July 2011.
Adam Titheridge, from Broom Road, Sittingbourne in Kent, changed his plea on Wednesday, the second day of the trial.
He will be sentenced on 18 January following pre-sentence and victim impact reports.
On the first day of the trial, the jurors were shown part of a recorded interview the girl made with police officers.
The remainder of that interview was due to be have been shown on Wednesday, but in a dramatic move, Titheridge's counsel, Martin Rodgers QC, asked for his client to be re-arraigned.
When the court clerk read out the two charges to Titheridge, he replied guilty to both.
His guilty pleas were watched by his victim who was observing the proceedings from another location on a live video link.
Judge Stephen Fowler then instructed the jury foreman to return a verdict of guilty by confession.
The judge then ordered the preparation of pre-sentence and victim impact reports as well as a psychiatric report before he sentences Titheridge on 18 January.
He described Titheridge's offences as "disgraceful".
Judge Fowler also ordered Titheridge to immediately sign the sex offenders register.
The length of time Titheridge remains on the register will be determined when he is sentenced next month.