Londonderry judge criticises slow forensic results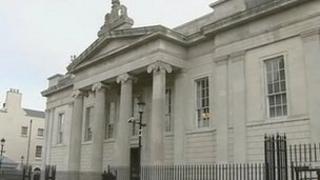 A district judge at Londonderry Magistrates Court has said he is seriously considering issuing a witness summons to compel a member of the Northern Ireland Forensic Science Laboratory to appear before him.
Barney McElholm said he wanted to know why fingerprint swabs taken six months ago have still not been analysed.
He said it was "simply not acceptable".
He said the issue should be addressed by someone in the appropriate authority if it is down to a lack of resources.
Mr McElholm criticised the Forensic Science Laboratory for not releasing updates to the courts.
The case involved Brendan Harkin, 32, from Carranbane Walk in Derry who denies dangerous driving and driving without insurance while disqualified at Madam's Bank Road in May.
His solicitor said the results of swabs taken from the gearstick in the defendant's car were still unavailable.
The court was told Mr Harkin had been electronically tagged, placed on curfew and ordered to report each week to the police since his arrest.
District Judge McElholm removed the curfew and reporting conditions and adjourned the case until 3 January.
He said he wanted a complete fingerprints update to be available on that date.