Marian Price laywer calls for prosecution to stop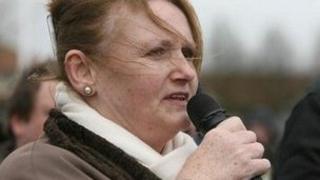 A solicitor for former hunger striker Marian Price has appealed to the Director of Public Prosecutions to stop her prosecution immediately on the grounds of ill health.
Marian Price, 58, referred to in court by her married name, McGlinchey, is charged with addressing a meeting in support of a proscribed organisation in Londonderry at Easter last year.
She was arrested and returned into custody on the direction of the then Northern Ireland Secretary of State Owen Patterson.
The defendant had been on licence.
Mr Patterson revoked the licence after she was photographed and filmed holding a piece of paper from which a masked man read a statement during a dissident republican Easter commemoration rally in Derry city cemetery.
She had been in Hydebank Prison but was eventually moved to hospital after her lawyers successfully campaigned to have her moved due to ill health.
On Wednesday her solicitor Peter Corrigan told the court that her mental and physical health was getting worse, and that the prosecution should be stopped.
He has called on the the Director Of Public Prosecutions, Barra McCrory - the highest public prosecutor in Northern Ireland, to intervene.
Mr Corrigan said that Ms McGlinchey was so ill in hospital that to prosecute her would not be in the public interest.
He highlighted that she was already deemed too ill to attend court for any hearings and told the court that since she was hospitalised last May she has been examined by 16 doctors.
District Judge Barney McElholm said, he would consider holding a preliminary enquiry hearing in hospital for Ms McGlinchey, even though he said, that would provoke serious issues in terms of her ability to particpate in such a process.
He adjourned Ms Glinchey's PE for one month, to allow discussions to take place between the various legal parties.
Meanwhile, three men charged with assisting in the management of the same cemetry rally had their preliminary enquiries held.
Marvin Canning, 50, from Galliagh Park, Patrick McDaid, 42, from Beechwood Avenue and Frank Quigley, 30, from Elmwood Road, were each released on their own bail of £1,000 for their trial in Belfast Crown Court on a date to be fixed.