Savita Halapanavar Derry vigil attended by 100 people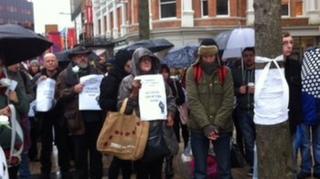 Around 100 people gathered in Londonderry on Friday for a vigil in support of Savita Halapanavar's family.
The 31-year-old who was 17 weeks pregnant, died at Galway University Hospital after having a miscarriage on 28 October.
Her husband claimed terminating the pregnancy might have saved her life.
The Health Service Executive in the Irish Republic is about to set out the terms of reference and membership of the inquiry team looking into the case.
Goretti Horgan from the Alliance for Choice, who attended the rally, said women were appalled by what happened to Mrs Halapanavar.
"People are worried about their own daughters, their sisters, whether they would be safe within Northern Ireland," she said.
"We know that doctors here face the same lack of clarity as they do in the south as to when they can intervene when a woman's health or life is at risk.
"There is a huge amount of shock and sadness over Savita Halapanavar's death.
"You could see a certain amount of anger that, in this day and age, there hasn't been any change in the law, either here or in the Republic.
"Savita's husband said he didn't want any other woman to die in this way and that should be her legacy, that doctors are clear when they can intervene."