Mother of soldier killed in Afghanistan wants troops home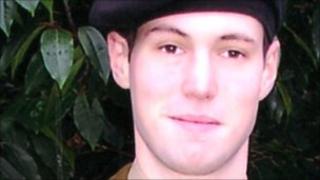 The mother of a County Londonderry soldier killed in Afghanistan two years ago has called for British troops to be brought home.
Ranger Aaron McCormick was killed on Remembrance Sunday in 2010 after an explosive device detonated while he was on patrol in Helmand Province.
On Wednesday his family lit lanterns by his grave side to mark his anniversary.
His mother Margaret remembers the day she heard the tragic news about her son.
"We were on holiday in Tunisia and as soon as walked into the hotel the girl in reception told us there were phone calls for us and as soon as I heard that I knew something was wrong.
"I had 50 missed calls. It was like living through a nightmare.
"He was in the process of defusing an improvised device when he sort of shifted his body somehow and it went off.
"We still talk about him as if he was here, we have videos of him when he was three or four years old.
"We still buy him a present and a card at Christmas and take it down to his grave as a family."
Mrs McCormick said her son should not have been in harm's way in the first place.
"He should never have been sent there in the first place.
"The whole British Army should have never have been sent there.
"It is not our war, I don't think we should be there."