Fresh hope for family of Derry sectarian attack victim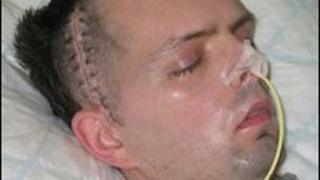 The family of Londonderry civil servant, Paul McCauley, who has been in a vegetative state since a sectarian attack six years ago, have been given fresh hope of communicating with him.
New technology has enabled a Canadian man, in a similar state to Paul's, to communicate with researchers via a brain scan.
Experts said this proves that he is conscious and aware.
It is the first time such a patient has been able to provide this information.
Canadian, Scott Routley's story was featured in a BBC Panorama programme on Tuesday night.
Paul McCauley's father, Jim, said the programme highlighted that families should never give up when a loved one has suffered a brain injury.
"We watched the programme because at any stage we could have slotted Paul and Scott's parents and my wife and I into that situation.
"A situation where you never give up hope..
"The big frustration with Paul is a lack of communication, that is a massive first step.
"There is great sadness at times when we know that Paul is uncomfortable or in pain and we can't address that.
"We know he is in pain because he screws up his face or is more tense than normal.
"It's trying to access his brain and find out if he can communicate and tell us exactly what is wrong.
"The unknown is always there to be accessed and I think now the technology is being developed to access it."
The Panorama programme spoke to British neuroscientist Professor Adrian Owen, who leads the research team at the Brain and Mind Institute of Western Ontario.
He said it could have huge implications for other patients in a similar state.
"We have scanned hundreds of people using these types of tasks.
"This means we are getting pretty good at knowing what is a reliable and robust response and what is statistical noise or a chance activation in the brain.
"We can tell the difference pretty well."