Apprentice Boys Hall attacked three times in as many days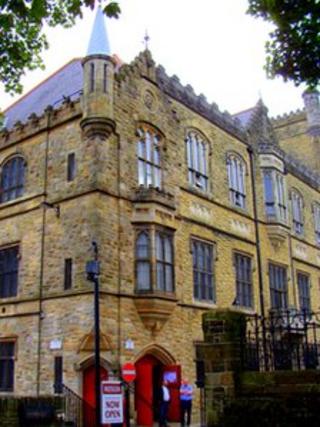 The mayor of Derry says he'll speak to local community groups after a spate of attacks on the Apprentice Boys Memorial Hall.
The building was attacked with paint bombs three times last weekend.
Sinn Fein's Kevin Campbell says young people should be encouraged to visit the hall.
Mr Campbell said the Memorial Hall tells an important part of the city's history.
"It tells the story of the city, about the Siege.
"I know a number of groups from the Bogside have already visited the Hall and I don't see any reason why that can't be extended."
The Apprentice Boys are reviewing security at the Memorial Hall.
The loyal order has blamed young nationalists for throwing paint at their historic memorial hall in Society Street.
They said the attacks started over the Remembrance weekend.
The Governor of the Apprentice Boys, Jim Brownlee, said the attacks are damaging the city's image.
"It was the same last year.
"The whole community has to condemn this.
"We are coming into 2013 UK City of Culture where we have a multi-cultural city trying to celebrate itself and we can certainly do without these attacks.
"It has to be condemned by all and, if possible, the perpetrators brought to justice."
Mr Brownlee said he is certain nationalists were responsible for the attacks.
"The paint bombs were thrown over the wall from the Bogside, so it is reasonable to assume that was the case.
"I would appeal to community leaders in that area to try and defuse any situations that exist down there.
"This is anti-social behaviour which we could all do without.
"We are trying to sell this city for 2013 and when visitors come along and see the results of paint bombs on the hall or on the walls the question has to be asked what impression does it give them."