Pregnant woman goes into labour in Londonderry court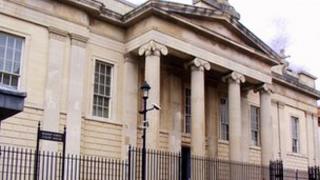 A pregnant woman has gone into labour in a Londonderry courthouse just minutes after her partner was sentenced for driving offences.
Her partner, Michael McColgan, from Seeview Cottages in Glengad, County Donegal, was disqualified from driving for six years and fined £2,000.
McColgan's partner went into labour in the foyer of Bishop St courthouse.
An ambulance was called for the woman and she was taken to Altnagelvin Hospital for treatment.
During the hearing on Monday, defence solicitor Paddy McDaid told the court his client's partner was due to give birth to their third child some time this week.
Crashed
McColgan pleaded guilty to offences that took place at the weekend and others which dated back to 2005.
District judge Barney McElholm was told that a member of the public reported to the police that they had seen a drunken man getting behind the wheel of a car outside the Brunswick bowling alley in Pennyburn, Derry, on Saturday night.
The police responded and caught McColgan two miles away, after he had crashed into the rear of another car on Strand Road.
After he was arrested, McColgan was told that there was an outstanding bench warrant for his arrest for other driving offences that were committed in Derry seven years ago.